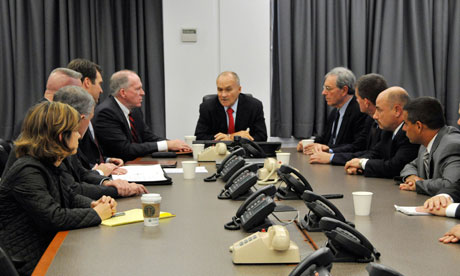 Police Department Admits Demographics Unit Spied On Muslims For Six Years Without Triggering A Terrorism Investigation
In more than six years of spying on Muslim neighborhoods, eavesdropping on conversations and cataloging mosques, the
New York
police department's secret demographics unit never generated a lead or triggered a terrorism investigation, the department acknowledged in court testimony unsealed late Monday.
The demographics unit is at the heart of a police spying program,

built with help from the CIA

, which assembled databases on where Muslims lived, shopped, worked and prayed. Police infiltrated Muslim student groups, put informants in mosques, monitored sermons and cataloged every Muslim in New York who adopted new, Americanized surnames.
Police hoped the demographics unit would serve as an early warning system for terrorism. And if police ever got a tip about, say, an Afghan terrorist in the city, they'd know where he was likely to rent a room, buy groceries and watch sports.
But in a 28 June deposition as part of a longstanding federal civil rights case, assistant chief Thomas Galati said none of the conversations the officers overheard ever led to a case.
"Related to demographics,"
Galati testified that information that has come in
"has not commenced an investigation."
The NYPD is the largest police department in the nation and mayor Michael Bloomberg has held up its counterterrorism tactics as a model for the rest of the country. After the Associated Press began reporting on those tactics last year, supporters argued that the demographics unit was central to keeping the city safe. Galati testified that it was an important tool,
but conceded it had not generated any leads.
Galati, the commanding officer of the NYPD intelligence division, offered the first official look at
the demographics unit, which the NYPD denied ever existed when it was revealed by the AP last year
. He described how police gather information on people even when there is no evidence of wrongdoing, simply because of their ethnicity and native language.
As a rule, Galati said, a business can be labeled a "location of concern" whenever police can expect to find groups of Middle Easterners there.
Galati testified as part of a lawsuit that began in 1971 over NYPD spying on students, civil rights groups and suspected communist sympathizers during the 1950s and 1960s. The lawsuit, known as the Handschu case, resulted in federal guidelines that prohibit the NYPD from collecting information about political speech unless it is related to potential terrorism.
Civil rights lawyers believe the demographics unit violated those rules. Documents obtained by the AP show the unit conducted operations outside its jurisdiction, including in New Jersey.
The FBI there said those operations damaged its partnerships with Muslims and jeopardized national security.
Attorney Jethro Eisenstein, who filed the Handschu case more than 40 years ago and questioned Galati during the deposition, said he will go back to court soon to ask that the demographics unit be shut down.
It operates today under a new name, the zone assessment unit.
It recently stopped operating out of state, Galati said.
"This is a terribly pernicious set of policies," Eisenstein said.
"No other group since the Japanese Americans in World War II has been subjected to this kind of widespread public policy."
Dozens of members of Congress have asked the justice department to investigate the NYPD. Attorney general Eric Holder has said he was disturbed by the reports. But John Brennan, President Barack Obama's top counterterrorism adviser, has said he is confident the NYPD's activities are lawful and have kept the city safe.