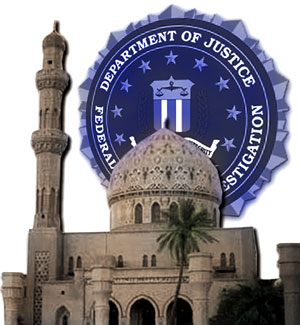 FBI Officials Have Criticized The NYPD's Spying Apparatus, But Their Own Agency Routinely Violates The Rights Of Muslims.
Alex Kane reports:
Soon after the
Associated Press
began publishing its
expose of the New York Police Department's widespread surveillance of
Muslims
, the Federal Bureau of Investigation began to speak up.
Officials like Michael Ward, the top FBI official in New Jersey, criticized the
NYPD's warrantless spying on innocent Muslims for creating "risks" -- the risk of Muslims pulling "back cooperation" with law enforcement.
The latest example of the FBI voicing criticism of the NYPD
comes in Ronald Kessler's book
,
The Secrets of the FBI
.
An updated version of the book that was recently released quotes FBI officials saying that the NYPD's surveillance program is a "waste of money" and unconstitutional.
These FBI officials are right. But before criticizing another law enforcement agency, they should look in the mirror.
"These sorts of comments may be more the result of turf wars than different law enforcement practices between the FBI and the NYPD," said Diala Shamas, a legal fellow at City University of New York's CLEAR (Creating Law Enforcement Accountability & Responsibility) project. CLEAR works to address the legal needs of Muslim, Arab and South Asian communities in New York. "Based on our clients' experiences, the FBI has very similar policies," she told AlterNet.
Shamas also noted that the policies both the FBI and NYPD pursue have the effect of "chilling...aspects of healthy community life in Muslim communities."
Since the September 11, 2001 attacks, the FBI has engaged in many of the same practices the NYPD has been criticized for: warrantless spying, entrapment and the detention of Muslims in the US.
The tactics used against Muslims are only the latest chapter in the FBI's sordid history of spying on and harassing Americans. Officials may want to distance themselves from the controversial NYPD surveillance program, but as the cases of Yonas Fikre, the Newburgh Four and others show, the FBI has continued to violate the rights of Muslims in the U.S. and abroad. So before sniping at the NYPD, perhaps these FBI officials should speak up about their own house, and get it in order.