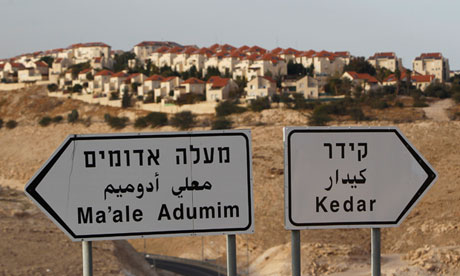 Ian Black writes,
Israel's behaviour is seen as retaliation for last week's landmark UN vote recognising Palestine as a member state. But it is more than that: authorising illegal settlements in the area known as E1 is plainly provocative. It is, as the UN's Ban ki-Moon put it, a near-fatal blow to the fading hopes for a two-state solution. Britain's foreign secretary, Wiliam Hague, made the same point starkly.
Swift and concerted diplomatic protests across
Europe
were certainly headline-grabbing. But what counts is whether they will be followed by more united and robust action. Even more important, what will be the response of the US, the only member of the security council to vote no to Palestine last week?
It should be no surprise then that what the EU says about the world's most intractable conflict has so little effect. Israelis tend to sneer at the collective power of Brussels. If the EU is united it is usually by saying what it will not do — for example shunning Hamas as a terrorist organisation.
"The feeling in Israel is that Europe will never act against it for historical reasons,"

argues Yossi Mekelberg, a fellow at Chatham House in London.

"The argument is that Europeans were either perpetrators in the Holocaust or failed to do enough to stop it. The Israeli government is always quick to press that button."
But, 67 years after the end of the second world war, things could be different. The EU is Israel's biggest trading partner and the largest provider of development assistance to the Palestinians. It is often criticised for being a "payer but not a player" especially after millions of euros worth of aid have gone up in smoke in Israeli attacks.
... occasional talk of punishing Israel – for example by suspending its valued 1995 association agreement with the EU or other co-operation programmes – has remained that, just talk.
Daniel Levy, a former Israeli peace negotiator who now works for the European Council for Foreign Relations, said that an EU rethink is required urgently but does not expect it to happen quickly.
"When you are so deep in a policy that essentially accords impunity to Israeli actions you can't spin on a dime,"
he argued.
"It requires a whole different approach that isn't going to happen overnight."
It was in 2001 that the then French foreign minister, Hubert Vedrine, defined the challenge.
"The EU should make the US recognise that it is legitimate for Europe to take its own approach to peace,"
he said.
"If the union really wishes to play a role, it must escape from the situation where defining a common position comes down to seeking the lowest common denominator in platitudinous declarations or ritualised diplomatic tours."
That advice remains relevant to this day.